IVF at Frisco Institute for Reproductive Medicine in Frisco, Texas*
Procedure Details
Kelley was 26 when she started fertility treatment. "They first tested me for everything under the sun, trying to find some clue as to why I kept having miscarriages." Testing included blood tests, a saline sonogram, which evaluates the uterus and the shape of the uterine cavity, and a hysterosalpingogram, an X-ray examination of a woman's uterus and fallopian tubes. Her husband had a sperm analysis done, but nothing shed light as to why they were having issues keeping a pregnancy. With the support of her husband, Aaron, Kelley tried three rounds of intrauterine insemination (IUI). Unfortunately, the treatments did not go as planned, and doctors were still not able to identify a medical condition as the source of the recurrent miscarriages. With fertility tests not showing any clues (a diagnosis of unexplained recurrent pregnancy loss), Dr. Ali Gueramisuggested preimplantation genetic screening (PGS), a genetic test for chromosomal defects often performed on embryos developed through in vitro fertilization (IVF). They wanted to make sure the embryos that were transferred had the correct amount of chromosomes to increase their chances of success, as miscarriage and failed pregnancy are often due to such genetic abnormalities that can also cause serious birth defects. Only one of the six biopsied embryos came back with abnormal chromosomes, so Kelley and Aaron were left with five healthy embryos to implant in her womb.
More
Kelley, Aaron and baby Kelcey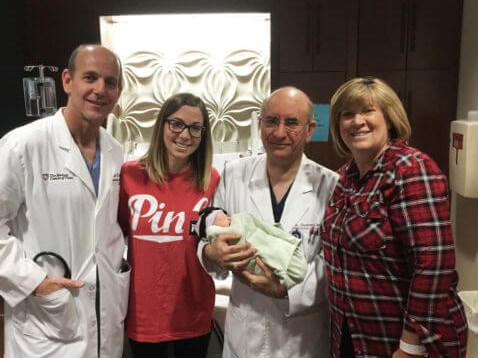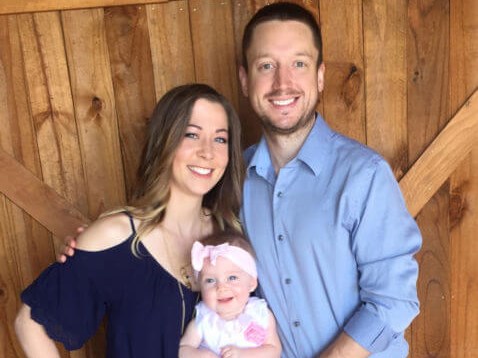 Considering a surrogate mother
They chose to do one round of IVF in hopes of a successful pregnancy. One embryo was thawed and transferred, and the other four embryos remained frozen. But sadly Kelley miscarried for the third time. At this point of Kelley & Aaron's infertility journey, both almost gave up hope of having children, until Kelley's 54-year-old mom came to the rescue.
Dr. Guerami suggested surrogacy and explained to Kelley how important it was that she choose someone as a surrogate mother that she trusted as much as her mother, Tracey Thompson, who was with Kelley during the appointment.
At that point Kelley didn't know her mom was even an option, especially since Tracey was already seven years past menopause. During the appointment, Kelley's mom chimed in and asked if she could do it. Once Dr. Guerami said technically she could, she jumped on it.
"I did not immediately know that I wanted my mom to be my surrogate," says Kelley. "Initially we were solely talking to Dr. Guerami to gain information. We were at a crossroad, we had to decide if we wanted to go down the road of adoption or if we wanted to use a surrogate to carry one of our remaining embryos."
Surrogacy was not a decision Tracey and her husband, Ben, came to lightly. They talked to their church pastor, as well as to trusted friends and family, seeking advice.
Whether the surrogacy was part of God's plan wasn't a discussion, says John Spencer, pastor of Lone Star Cowboy Church in Nevada. "God uses medical channels to heal, or in this case, bring new life," says Spencer, who knew about the difficulty of the couple's daughter and son-in-law in having a baby.
Achieving the dream of parenthood
Kelley's first concern was her mother's safety and health. If there had been any red flags, Kelley wouldn't have moved forward. Her mother Tracey first went through a comprehensive medical evaluation.
Her family also had to sit down with a counselor to check for any emotional problems. Once it was determined that Tracey's uterine cavity was normal, she started taking hormones to prepare for the implantation of a 5-day-old embryo.
"Most people were very supportive. But pretty much everyone close to us knew what we were going through, so they were excited with us," says Kelley. "I feel like we were pretty good at blocking out the negative, and any negative reactions were quickly changed once they knew the full story!"
Pregnancy can be a heavy load on a woman, says Dr. Guerami. "We have to make sure that her heart can accept it, and then we have to make sure the patient understands that when she's older, there's much more of a chance she'll have an operative procedure like a C-section."
After passing the comprehensive medical evaluation, Tracey was implanted with an embryo remaining from her daughter's IVF procedure, becoming Kelley's surrogate mother as well as being her mother. The course of Tracey's pregnancy was normal and because of the efforts of Dr. Guerami at FIRM, Kelcey was born on January 6, 2016, at the Medical Center of Plano.
After a miracle such as this, Kelley can't help but be grateful for what her mother went through to help her achieve her dream of parenthood. It's the perfect example of the unconditional love a mother can have for her daughter, and just how far some moms will go to help their child's dream become a reality!
"My mom is the most selfless mother out there," says Kelley. "She would give anything to make sure that her children and grandchildren are happy and can live their dreams. She is truly the type of person everyone should strive to be like."
The only misconception Kelley often has to clarify is that even though her mother carried her child, the embryo used was Kelley's. Which means Kelcey is genetically 100 percent Kelley's daughter, not her sister. Her genes from her egg and genes from her husband's sperm created the embryo.
Even now, Kelley has nothing but great things to say about Frisco Infertility Reproductive Medicine. "This office is amazing. Everyone there became a second family to us. Dr. Guerami is a doctor that I never questioned what he said, he was always very straightforward with me, and he always took the time to listen to what I had to say."
The course of Tracey's pregnancy was normal and because of the efforts of Dr. Guerami at FIRM, Kelcey was born on January 6, 2016, at the Medical Center of Plano.