This is a question posed by many men and women embarking on the journey to parenthood.
Statistics estimate that 1 in 6 to 1 in 8 couples trying to conceive will experience issues with infertility.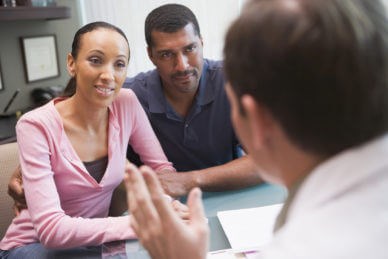 This number might actually be an underestimation since so many couples never even end up seeking any care for various reasons. We hear of women, especially teens who get pregnant after just one episode of unprotected intercourse. The CDC reported in a 2011 study that 49% of pregnancies in the U.S. were unintended. Understandably when couples hear numbers like these, they feel they should have been pregnant after a couple months of trying.
Humans are actually not very efficient reproducers. If everything was just perfectly timed in a completely fertile couple, the chance of conception per ovulatory cycle in a young woman is still only about 15-20%. This probability of conception per ovulatory menstrual cycle decreases with advancing age of the woman. Age of the woman is the single most important factor in the prognosis of achieving a successful pregnancy.
So when should one seek evaluation and treatment for infertility?
The general rule of thumb is that if a woman is under 35 years of age and has been trying for one year without success, it's time to at least get an evaluation. A basic evaluation for infertility involves assessing the woman's egg reserve (i.e. egg quantity in the ovaries), check for anatomic abnormalities with a pelvic sonogram and specialized X-ray called a hysterosalpingoram (HSG), check basic hormones and last but not the least, check a semen analysis on the husband. In about 30% of cases some male factor will be present and in about 10-15% of cases, male factor will be the predominant cause of infertility. A semen analysis is all that is needed as a basic screen for male factor infertility. If the semen analysis is abnormal then a repeat analysis in 2-3 weeks and further tests may be ordered as indicated.

For women over age 35 years, it is advisable to seek evaluation if not successfully pregnant after 6 months of trying. This is because advancing age of a woman negatively affects pregnancy rates and it would be better to identify and treat issues sooner than later, especially if more than one child is desired.

In instances when there is a known cause such as prior tubal disease or lack of regular periods or husband with prior vasectomy etc, it is recommended to seek care as soon as ready to start a family. Studies have shown that time to pregnancy is fastest with a specialist. A reproductive endocrinologist is a physician who specializes in treating couples with infertility.