I Never Thought It Could Be Me: An Infertility Doctor's Story
Dr. Mehta's infertility journey
I'm Dr. Rinku Mehta, reproductive endocrinologist and medical director at Frisco Institute for Reproductive Medicine. I want to share my story of how infertility and loss don't discriminate, because I've experienced both – and I'm an infertility specialist. I know what my patients are going through. Here is my story.
I always knew that I wanted to have children eventually. However, like many driven and ambitious young people, I was busy building my career in my early 20s and having children wasn't very high on my priority list. Luckily, I got married at the young age of 24 so I knew that I had time. After all, I figured it wouldn't be that difficult to get pregnant once I was ready.
I know what you're thinking, but sadly, yes, that's what goes through the mind of a 24-year-old. Because when I was at that age and in that mindset, I was under the impression that life was supposed to unfold just as I wanted it to. You see, I had it all planned out.
After graduating from high school I spent three years getting my undergraduate degree, followed by four years of medical school, four years in residency and three years in a fellowship to specialize in my field – all before I was ready to see my first private patient.
Now I look back and laugh at my naivety. Where in all of that, was there time to have children? Thankfully, my family had the good sense to remind me that there would probably never be a good or "convenient" time.
Going through reproductive endocrinology and infertility rotation in residency also reminded me that my "biological clock" was indeed ticking. So at the age of 28, I stopped taking my oral birth control pill and began trying to start a family. Then, nothing happened.
After several months, I consulted with a faculty member and got evaluated. It turned out that I had polycystic ovary syndrome (PCOS) and was not ovulating regularly. So began the road of fertility treatments.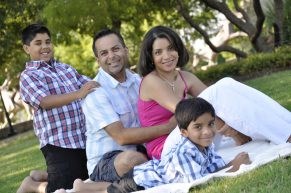 Dr. Rinku Mehta with husband, Danny, & their two sons.
From Fabulous! to This is not good
We tried a hormonal medication for fertility called Clomid that would help me ovulate and lo and behold, I got pregnant on the second try. I remember thinking, Fabulous! Things could not have worked out better and we were ecstatic.
At this time, I was a third-year OB-GYN resident and my schedule was crazy. I was working long hours and into the night. I heard that our residency was participating in a large, multicenter trial to study first trimester blood test screenings for abnormalities in babies. Intrigued, I decided to participate. During my sonogram, the sonographer left the room and returned with a faculty doctor who had a frown on his face. I was then asked to get dressed and come back into his office. All I could think was, This is not good.
The doctor sat me down and explained that they had seen a thick nuchal fold in the baby. For those of you who are thinking, What is that? don't worry – I was thinking the same exact thing. He went on to explain that it could mean that there was something wrong with the baby.
The blood tests had also come back abnormal. Since this was a research study, it was unclear how to completely interpret these results. So then came a battery of tests, diagnostics and concern. I couldn't believe that this was happening to my husband and me. After all, I was only 28 years old and babies were supposed to come naturally to women under 35.
At least that's what I thought I knew.
At work, I was Dr. Mehta
Throughout this process, my husband was an amazing pillar of support. I also learned an important personal lesson of detachment at this time. While my personal world was in shambles, with evenings spent trying to research what could be wrong with my baby and shedding endless tears on my couch, at work I was Dr. Mehta.
I had a job to do, patients to care for and my personal issues could not be allowed to interfere. Detaching from life outside of work allowed me to do my job well and not fall apart.
Ultimately, we lost our baby girl when I was about 21 weeks pregnant. To this day, I still do not have the words to express the pain I felt. I felt like my heart would burst with sadness. I also saw my husband cry and I didn't know how to take away his pain.
But we healed, with time. Six months later, we decided to give it another try. We used Clomid treatment and once again, got pregnant. This time however, as illogical as it may sound, I decided not to have any tests done.
I didn't want to know if there was a problem with my baby. I had decided that I was going to take my chances and trust in God.
And I got lucky. At 30-weeks pregnant, my water broke and I was admitted to labor and delivery – the very same facility that I used to see patients at, and I endured many of the same experiences that my patients in preterm labor do. My son was born at 32 weeks.
He spent two weeks in the neonatal intensive care unit (NICU). Mainly because he was about 3 pounds and couldn't maintain his body temperature or suck from a bottle. When I walked into NICU for the first time and saw him, his head was shaven and he had IVs in his scalp and monitors all over him. I broke down and sobbed, asking, "Why do these things keep happening to my family?"
During this time, the NICU staff was incredible and my little baby boy was able to come home after two weeks. [Side note: caring for a premature boy at home is an entirely different story that I'll save for another blog at another time].
That same premature little boy is now 14 years old and weighs 150 pounds. We endured a lot in those early years, but things got better. When I was in the last year of my fellowship training in reproductive endocrinology and infertility, we decided to try and have another child (four years after having my first son).
Full disclosure, I'd be lying if I said I wasn't scared, especially given the difficulties we'd had before. But we went for it.
Taking pregnancy tests like a crazy person
I tried about eight cycles of Clomid, even though I was supposed to stop at four, and had no luck. Then I took a hysterosalpingogram (HSG) test to make sure that everything was fine with my anatomy. It was.
One of my fellow co-workers took on the role of being my doctor, and we started a treatment that included a daily injection of a follicle stimulating hormone (FSH) and intrauterine inseminations (IUI). Once again, this treatment did not work.
At that time, I remember taking pregnancy tests every day, like a crazy person, even though I knew it was too early for them to be positive. After two failed cycles, I was ready to try in vitro fertilization (IVF) but decided to give our previous treatment another shot. Surprise! I got pregnant.
This pregnancy took a more normal course, but my second son was also born premature. At 36 weeks my placenta abrupted. Luckily I was already in the hospital and the baby was delivered safely, despite a few nerve-wracking moments. My second son was able to come home with me the next day. He is now 9 years old.
My husband decided to put his career on hold and become a stay-at-home-dad to take care of our children when they were young. Now that my oldest son is 14 and the youngest is 9, my husband is finally starting to pursue his career dreams at age 43. We still miss having our daughter with us and wish that she were here, but life goes on and we are grateful for the family that we do have.
I am telling about my fertility journey in order to bring light to the fact that although I'm a doctor, a fertility doctor at that, all of the things that my patients are going through, I've gone through. While anyone can be suffering from infertility or other issues, it's not always their way to share or show their pain.
You are not alone. I know how you feel. The biggest advice that I could give you is to seek care early and to hang in there. Things don't always work out the way that we imagine they will, but we have to improvise and move on.
Share your story and give encouragement to other couples who may be in the same boat.