The Truth About IVF Success Rates
At our clinic, we are very proud of our physicians, lab, and high percentage of patients successfully achieving conception, but plain numbers as reported on by SART data reports can be deceiving – and manipulated by cherry picking IVF patients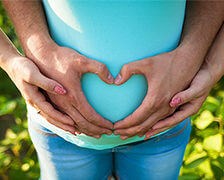 As fertility caregivers, we measure our success by the answers to these questions:
Do a significant number of our patients successfully achieve pregnancy? (Yes.)
Do we give our patients the best medicine science has to offer? (Yes.)
Are we up-to-date with technological advances? (Yes.)
Do patients see their physician every visit, rather than most of their encounters being with nurses or sonographers? (Yes.)
Do we care about each and every patient and focus on the details of an individual's particular causes of infertility? (Yes.)
Do we accept more complex cases even though they would lower our SART success rates? (Yes.)
This last point most affects our rankings as listed by the Society for Assisted Reproductive Technologies (SART), the gold standard for many infertility patients, prospective patients and fertility physicians. SART IVF success rates are often times the sole determinant for many patients when choosing their fertility physician and clinic, although SART makes the statements that these reports should not be used to compare clinics.
And we do care about the numbers that show what percentage of in vitro fertilization (IVF) cycles result in pregnancies and live birth, broken down by age and other factors. But at the same time we really don't care about them – as the measure of our success.
Our metric of success is proudly answering Yes to all of the above questions, showing that we are helping people overcome the medical issues preventing them from becoming parents.
That said, SART success rate figures, which are provided to SART by fertility clinics, are important. Because of that, people have figured out ways they can alter reporting to boost their SART numbers.
Unfortunately, those boosted numbers can come on the backs of patients. Those with poor prognoses may be steered away from more conservative treatments they want to first try. And those with good prognoses may be guided toward more complex and expensive treatments (such as IVF) than they may really need.
Let's demystify IVF success rates. It's a very confusing subject and many patients might not understand the factors that lead to successful outcomes in fertility treatment. They may not know what aspects can be controlled and what aspects are truly dependent upon physician skill.
Cull the herd of IVF patients more likely to fail
It is not advantageous to compare success rates from clinic to clinic. Not only do varying patient populations with different prognoses exist, but there are also ways to "doctor" the numbers.
Some clinics turn away IVF patients with poor prognosis for success. These can be people with previous multiple IVF failures, those with high levels of follicle stimulating hormone (FSH) or those with low levels of Anti-Mullerian hormone (AMH).
Frisco Institute for Reproductive Medicine (FIRM) tailors our treatment to each patient's unique medical situation and needs.
A fertility clinic might have absolute cutoffs for IVF consideration, leaving out women with moderately high body mass index (BMI) and of a certain age. Some clinics are very strict on which women they allow to start an IVF cycle with their own eggs.
If an individual's prognosis is not good, she may be turned away from IVF, thereby falsely inflating success rates by patient selection before IVF starts. At FIRM, we generally don't recommend IVF to women aged 45 or older using their own eggs.
Patients sometimes want to try IVF even after we advise against it due to their particular situation and prognosis. The patient may continue to strongly desire an IVF treatment attempt despite low odds of success. As long as she fully understands the risks, and treatment is not considered futile or harmful, we likely will honor her wishes. In our field you never say never: sometimes, even patients with terrible prognosis get pregnant. Sometimes, you go against the odds – even if it means risking lowering overall success rates reported to SART.
Roundup the good prospect patients for IVF
Should a 27-year-old woman with ovulation issues jump right into IVF? Probably not, if there are no other confounding factors, but she may be pushed in that direction because she has a great chance of successful pregnancy in a short period of time. That would be a good uptick of the IVF success rate.
At our clinic, our philosophy is to first try treatments that are less invasive, less expensive and have fewer complications. The 27-year-old might have been encouraged by FIRM's doctors to try simpler medications that promote proper ovulation before trying an IVF treatment
Some clinics recommend IVF as the first option for treatment, even for people who have a good chance of success from more conservative methods. But what's best for the patient is another matter – the primary matter for us.
Other ways to move IVF success rate numbers
If your starting point for counting IVF treatment cycles is at the embryo transfer stage, then you've already shaken out a lot of IVF patients who don't get that far. And your success rate figures are better.
Some IVF patients never reach the point where eggs can be retrieved, or where they can be fertilized and the cycle is canceled.
Some clinics report few canceled IVF cycles because they start them as "IUI cycles." That way, if things don't go well they don't have to be reported to SART as a failed IVF cycle.
I advise patients evaluating a fertility clinic's IVF success rates to always pay attention to the average number of embryos transferred. Elective single embryo transfer (eSET) is better for the mother and resulting child because it avoids dangerous multiples pregnancies of twins or more. Some clinics are prone to transferring more embryos because the chances of giving birth are higher in most instances, but only by a few percentage points.
FIRM's IVF success rates are excellent. But we're more concerned with how we succeed with each individual patient. And if a couple does not become pregnant after all our combined efforts, they can know, without a doubt, that we tried our best and gave them the best science has to offer to date, and then move on to alternative strategies to have a family.