Unique Fertility Issues of Our South Asian Patients
At Frisco Institute for Reproductive Medicine (FIRM) my colleagues and I welcome and embrace patients from a variety of ethnic backgrounds. Many of the patients we see are of South Asian descent from countries including India, Pakistan, Bangladesh, Sri Lanka, Indonesia, The Philippines and Singapore, to name a few. Like most ethnic groups, individuals of South Asian origin have specific physical and cultural situations that may affect their fertility. We address these sensitivities and distinct situations in a patient and understanding manner, gathering all of the information needed to evaluate their options. We then decide together what the best treatment options are for moving forward and helping them build a family.
PCOS and Male Infertility
One of the most common reasons for infertility in women of South Asian descent is polycystic ovary syndrome (PCOS). PCOS is an endocrine disorder that causes an imbalance of reproductive hormones in women of reproductive age. Among a variety of symptoms, PCOS can often cause women to have trouble becoming pregnant due to lack of regular ovulation. Studies show that PCOS is a familial condition, meaning genetic factors play a strong role in its development. Some studies have also shown a greater incidence of PCOS in people of South Asian countries. Having conducted extensive research on the topic of PCOS and its effects on reproductive age women, I understand that the condition has many different manifestations, and accurate diagnosis is very important and necessary to formulate the appropriate treatment regimen. Patients in these communities often face familial pressure to have children, adding to the stress that infertility can cause. And while these individuals are culturally motivated to have children, they are also cost conscious.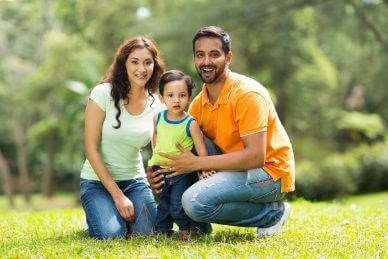 Another common, and often surprising, reason that couples from South Asia have a hard time getting pregnant is due to male infertility. According to the American Society for Reproductive Medicine (ASRM), about 30 percent of infertility is due to male factors and abnormalities in men's sperm. This is often a shock to patients that I see who didn't previously know or realize that infertility can be related to male factors. Male infertility is quite easy to test for via a semen analysis and, based on the results, appropriate treatment can be recommended.
Environmental and cultural factors
Cultural factors, social norms and environment can all impact a particular population's approach to fertility treatments. For example, many of my patients from South Asia maintain a "traditional" household where the male partner works outside of the home and the female partner supports the home and/or raises children. As a result, South Asian women who I see are usually apprehensive and a little shy in nature, which can make it more difficult to discuss fertility issues openly. Studies also show that women of South Asian descent seem to undergo longer periods of infertility before seeking treatment. I see many South Asian patients who are in their 30s and have tried for five years to get pregnant with no success. Often, infertility treatments are not covered by insurance, however many people do have diagnostic coverage. We always recommend at least get the testing done to determine the cause of infertility and then decide on whether or not to pursue treatment before it's too late with respect to the negative impact of advancing age on fertility. It's important to remember that infertility treatment is entirely elective and patients never have to do anything they are not comfortable with. At FIRM, our job as physicians is to educate our patients on their options and give them our recommendations. Ultimately the decision lies with the patient.
Knowledge is power
I often find that one of the greatest barriers to fertility care for South Asian couples is lack of knowledge about infertility and treatment. First and foremost is the fact that fertility is finite. The number of viable eggs that a woman has in her lifetime declines rapidly as she ages, so the younger the patient, the better the prognosis for a successful conception and live birth. I always advise patients – particularly South Asian patients who tend to put off treatment anyway – not to wait too long before seeking fertility care. The goal of fertility treatment is to help couples achieve successful conception as soon as possible. That being said, depending on the individual's situation, we typically recommend starting with simple strategies first and then moving to more aggressive treatments if simple modes have not worked.
Remember, time is of the essence!
If you're older than 35 and have been trying to get pregnant for over 6 months with no luck, it's important to take a more aggressive approach and seek counsel. I always recommend that couples gather as much information as they need to evaluate their options and then decide together on what treatment, if any, they are comfortable moving forward with.